AI Infographic Generator – Demo of "Infographic Ninja"
Convert a keyword or article to an Infographic with this AI Infographic Generator. It is an A.I. that creates infographics by using AI infographic generator from text engine built by OutlineNinja.
*All fields are required below. Keyword and Title are needed at first to generate the rest of the info.
**English only**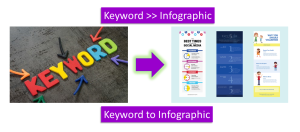 Loved the demo below? Subscribe Today (View Prices)
Features:
Many Infographics Templates to pick from.
Ability to customize icons (by Name, color, black & White, or gradient).
Automatically chooses appropriate icons.
Use a keyword to generate questions and answers using AI.
Use a Blog Article to generate Infographic.
Ability to write your own questions and answers.
Download FAQSchema.org to match your questions and answers. (for added SEO).
Buttons to Share on Social Media Instantly.
Code for WordPress that embeds the image and gives a 'copy embed code' button (for added virality and backlinks).
Ability to skip logo or subtitle.
Skip Questions / Titles.
Change number of entries from 3 to 7.
30+ Fonts to choose from.
Customize template colors (Branding) based on your logo. You can change header color, footer color and background color.
Preview Infographic before downloading.