1-The following are features of the Infographics Generator tool:
Many Infographics Templates to pick from.
Ability to customize icons' colors.
Automatically chooses appropriate icons.
Generates questions and answers using AI.
Ability to write your own questions and answers.
Download FAQSchema.org to match your questions and answers. (for added SEO)
Buttons to Share on Social Media Instantly.
Code for WordPress that embeds the image and gives a 'copy embed code' button (for added virality and backlinks)
2-The following are features of the All-in-one Topic research tool:
Outline Ninja grabs all the following information from the top 10 SERPs plus additional research.
This saves you a ton of time!
For each key phrase, you will receive:
Top 10 results on Google USA:

Title tags, snippets, and word count for each
Counts of internal and external links
Do they use Schema.org
Number of Tables and Lists
Average word count for top 10 competitors
All H1, H2, and H3 headings
Keyword Density – exact match
Keyword difficulty (allintitle count)
Natural Language (NLP) Entities and topics

First page of Google Data:

People Also Ask (PAA) list
Related Search Terms
Expanded AutoComplete Keywords (Google, Bing, Wikipedia…and 4 more)

Questions Databases:

Quora.com Questions
Reddit.com Questions
Ninja Questions and Outline Generator (TM)
JustAnswer.com Questions
Answers.com Questions

Bonuses:

Expanded Keyword Ideas
Walmart, Amazon, and eBay auto-suggest keywords
Click-To-Copy**

… in just a matter of seconds!
**Click-To-Copy: You have the ability to click on any text to copy it to clipboard and start writing your outline.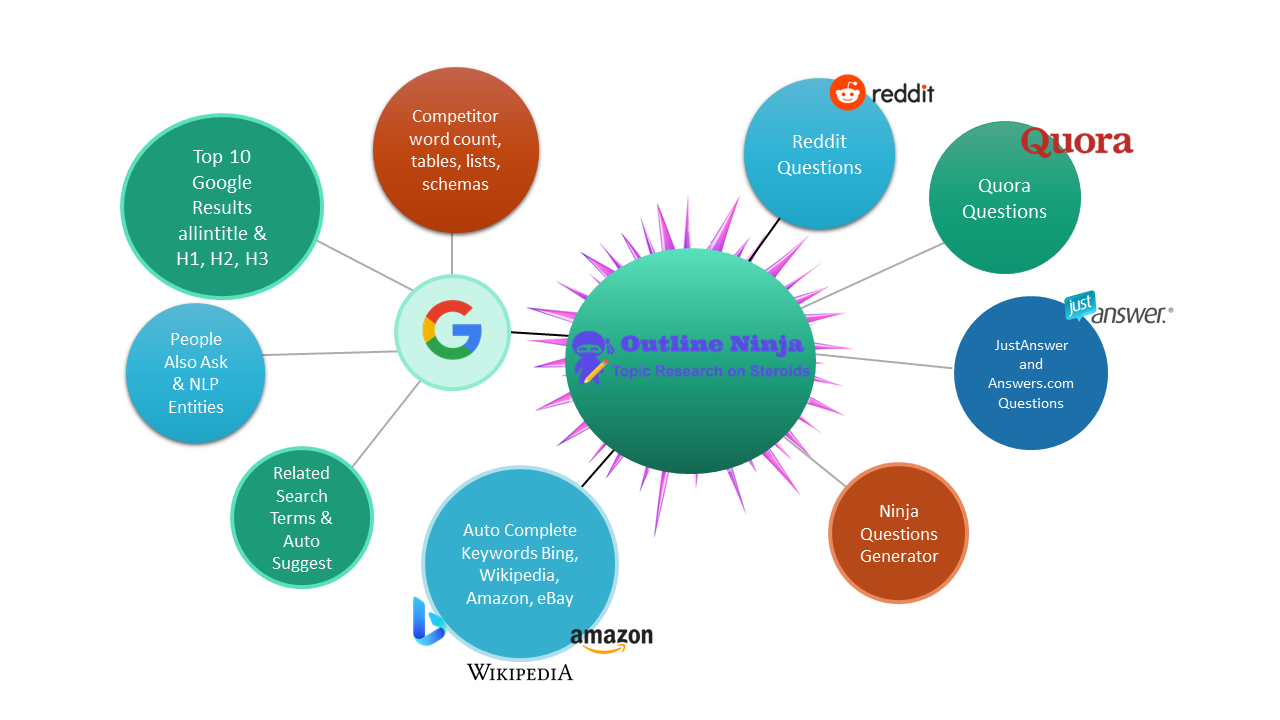 Starting from one keyword you can now write your article outline and find untapped content ideas.
Create more useful articles that are comprehensive in that niche and beat competitors by providing more value to users – isn't that what Google wants!
---
3-Features of the HowTo Generator
Uses one keyword topic to automatically create JSON-LD schema
Strictly follows HowTo Schema structure
Gives step by step how-to instructions
Includes your logo or image in the steps
4-Features of the Missing Entities analyzer
Scrapes top 10 SERP results on Google
Extracts NLP entities from top 10 competitors
Compares to your article to give a summary of missing keywords
Helps you optimize your SEO article