Announcing the first and only automated infographic generator
With our automatic infographic creator, you can create an infographic in one step! Just type one keyword and provide your company logo and title to produce an Infographic instantly.
Making social media graphics that are informational and concise has never been easier!
Forget Canva and other 'easy' tools. This is way faster. All you need is the keyword and click to produce infographic with AI automatically.
Automated Infographic Creator Demo:
How our automatic infographics maker works?
All you have to do is fill in a small for providing a keyword or topic that you want to convert to an infographic. the form also asks for your company name and logo to brand the infographic image. It will generate 5 questions and answers around the topic along with matching icons for that added effect.
How to get access to this fast auto-generator for infographic?
You can use your credits from Outline Ninja for either topic research or for the automatic graphic creator. Sign-up below!
Outline Ninja Team
---
Samples created by Infographic Ninja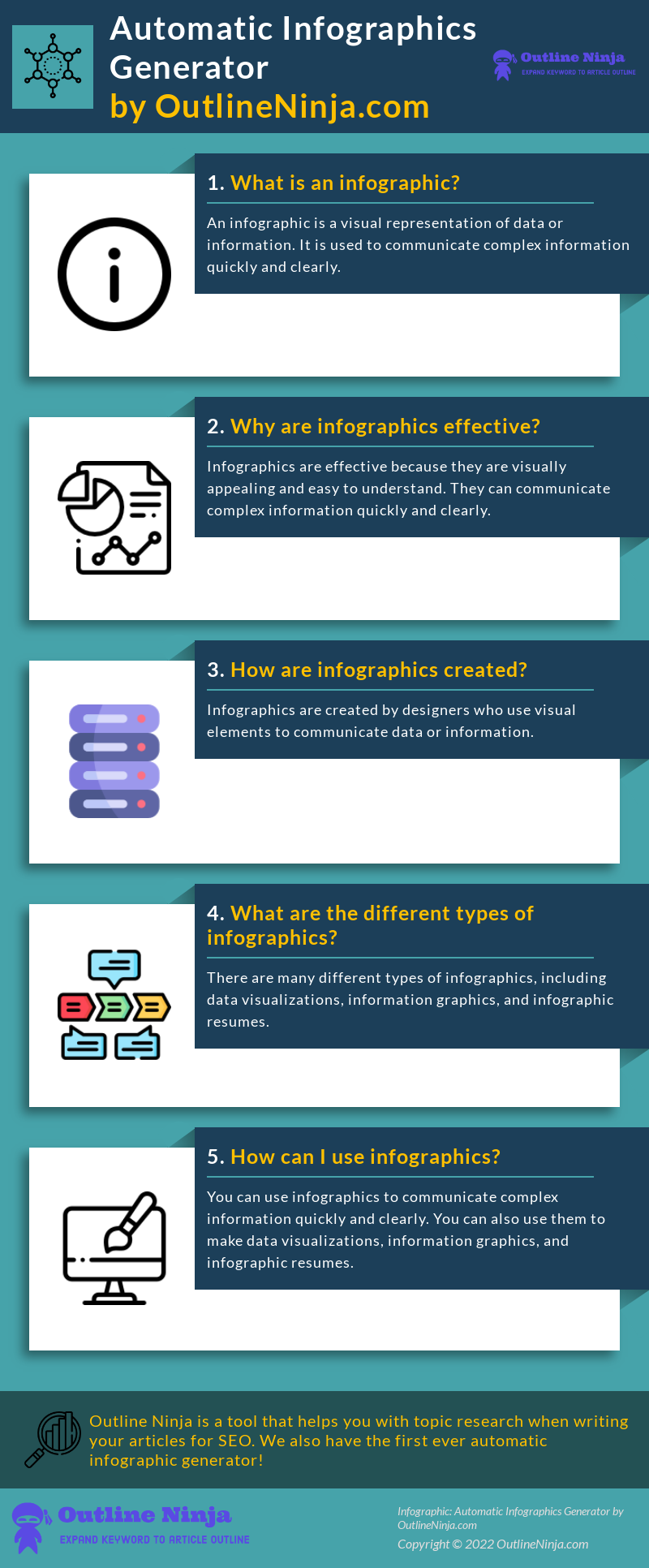 With our low prices this is almost a free and automated infographics maker.
There is no need to hire a graphic designer to create this art form image with photoshop, PowerPoint or illustrator templates..etc. All the elements, pictures, and icons will be generated to make an engaging and attractive infographic for you with one click.
Use these poster graphics to share informational content on Pinterest. Remember that visual representations of information and knowledge is intended to present beautiful information quickly and clearly. This leads to more traffic to your website once you share it on social media. Simple! forget Venngage and Piktochart and unleash your creativity when making these PNG images and pictures (information graphics).
Watch more demonstrations of auto-generated infographics: